About
Become Kubernetes Certified in less than 3 months!
How to become a Certified Kubernetes Expert in less than 3 months from knowing absolutely nothing and having zero experience, to gaining enough knowledge and hands-on experience and clearing 2 Kubernetes certifications (CKA & CKAD).
So why Kubernetes and what's all the fuss about it?
Kubernetes is one of the highest trending technology in Cloud Computing as of today. Kubernetes had the fastest growth in job searches, over a 173% from a year before as reported recently by a survey conducted by Indeed.
The adoption of Kubernetes as the Go-To platform for hosting production grade applications is ever increasing. Big brands like The New York Times, HBO, Reddit, AirBnB, Pinterest, Pokemon - all have their own Kubernetes stories to tell. And many more are on their way to join them.
So how do you start your journey with Kubernetes? - A question most people ask me.
When I first heard about Kubernetes and Container Orchestration, I had no idea what it was. I searched around for material that could help me understand it and found a ton of articles, blogs and youtube videos. But none of them really gave me the whole picture.
They were always missing something. Either a lecture on a pre-requisite topic or didn't explain the whole concept. I then had to go find other material to learn some of the basics. And none of them really gave me any hands-on exposure.
I struggled to setup my own labs. But the labs were for specific cloud platforms, either GCP, AWS or Azure. I wanted to setup a small home lab to practice on, that I can power up anytime, practice and shut it down. And not worry about being charged.
Some of the advanced topics like security, certificates, networking and storage required me to have sufficient background knowledge on each of them. And I didn't have any. So it took me a lot of time to learn the pre-requisites and master concepts in Kubernetes and clear certifications.
I knew there were many others struggling with similar issues. A lot of my students from my previous courses reached out to me reporting. They had these myths:
# Myth 1: You must have years of experience to become a Certified Kubernetes Administrator.
Most people think that it would take them years to become a certified Kubernetes administrator. Well, that's not true. The Kubernetes Certifications test your knowledge on the basics. You need to know the basic concepts of the architecture, setting up a cluster, deploying an application and configuring security, networking and storage. Our students have proved that all of these can be learned within 1 month!
# Myth 2: But I've heard Kubernetes is so hard and complex to learn.
Well, it could be hard if you don't have sufficient pre-requisite knowledge. For example, if you don't know the basics of certificates and authentication, then security related topics could be hard. If you don't know basics of networking in Linux, then the networking concepts may be hard to understand. Bu If you get your basics right first, you can easily relate those to Kubernetes concepts. And that's the key!
# Myth 3: I have no hands-on experience or access to any cloud providers for labs
You don't need access to any cloud providers. You can setup a local lab on your home laptop and that is sufficient to practice for the certifications. But wait, what if we have a better solution for you? Read on!
So I had to fix these problems myself. Which is why I decided to create THE MOST COMPREHENSIVE TRAINING ON KUBERNETES there is (say's not me, but my students. Checkout the reviews below). One that explains everything you need to know from the absolute basics to the underlying concepts in depth. With sufficient practice to help you clear those exams.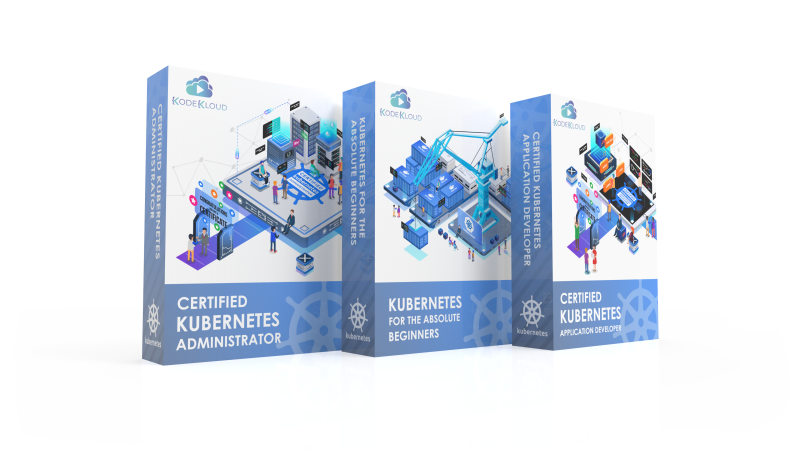 The Kubernetes Absolute Beginners to Certified Expert is a bundle of three courses, that take you from the absolute basics to helping you clear 2 certifications.
Here's what you will learn in our courses:
The contents of this course are aligned to match the Kubernetes Certification Curriculums.
How to setup a Kubernetes Cluster from scratch - "The hard way"
We demonstrate Kelsey High Tower's "Kubernetes-the-hard-way" setup. But customised for a local setup using Virtual Box. So you don't need any cloud provider access.

How to troubleshoot issues with a Kubernetes Cluster

How to troubleshoot applications in Kubernetes
How to view application logs in Kubernetes
How to troubleshoot cluster components in Kubernetes
How to troubleshoot security in Kubernetes
How to troubleshoot networking issues in Kubernetes

How to configure storage, networking, and security on a Kubernetes Cluster

Learn Pre-requisites of security such as basics of Encryption, Certificates etc.
Learn Pre-requisites of Networking in Linux such as switching, routing, gateways, ip tables etc.
How to configure networking in Kubernetes using Weave-net on Linux
How to configure security in Kubernetes using Roles, Role Bndings, Cluster Roles and Cluster Role Bindings

All pre-requisites you need to understand Kubernetes:

These courses together cover everything you need to know to become a certified expert such as the basics of containerisation, container orchestration, networking in linux, certificates and encryption, storage etc.

Get you hands dirty with challenging labs:

Each lecture is preceded by a hands-on labs that give you access to real kubernetes clusters that you can access right in your browser.

Get a real exam experience:

We have a number of mock exams that gives you a feel of the real exam and helps you prepare for the real one. You can view your results instantly.

The secrets to remembering commands for your exam
Tips on cracking the Kubernetes certification exam.
Hang-out with us and other students in our dedicated Slack Channels for each course.
The Kubernetes Learning Path